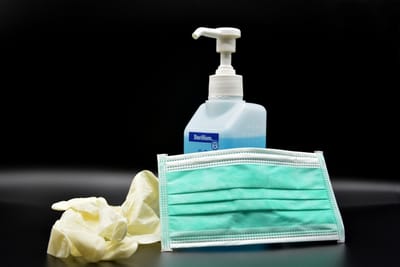 Updates on how our practice is prepared to meet the needs of our patients during the COVID-19 outbreak:
Covid- 19 Vaccination information, Testing and Rhode Island Department of Health recommendations.
There is no insurance requirement to get vaccinated in Rhode Island, and no one has to pay to get vaccinated. For general information about COVID-19 vaccination in Rhode Island, visit C19vaccineRI.org.
While all individuals are encouraged to seek vaccination opportunities through vaccination clinics and retail pharmacies, there are individuals who are unable to leave home to attend such opportunities. If you are unable to leave home to receive COVID-19 vaccination, or are the healthcare provider or family caregiver of someone who is homebound, please inform RIDOH through the following form:
http://bit.ly/homeboundvax
. Please note: this is not a vaccination registration form. This is a form to collect information for planning.

See the following link for frequently asked questions regarding the vaccine and Rhode Island's implementation plans.
https://health.ri.gov/publications/frequentlyaskedquestions/COVID19-Vaccine.pdf
Osteopathic Family Medicine has taken several steps to respond to the community transmission of COVID-19. We are making every effort to ensure a safe environment for our patients and staff, as we have since we have opened in 2008.
Disease transmission prevention:
NEW! We are requiring all in-person visitors to complete an online Pre-Check prior to arriving for their appointment.
In addition to our usual cleaning processes throughout the day, and weekly cleaning crew of the entire office, our staff will be cleaning exam rooms with disinfectant between every patient.
The waiting room chairs are being wiped multiple times each day.
Several of our doors will be left open during business hours to limit the need to touch the handles.
Our staff have been instructed to wear masks for all in-office patient care.
Appointment scheduling:
When making appointments, our staff is now screening patients for anyone with fever or respiratory symptoms. Patients who screen positive, are being asked to NOT come to the office, but rather do a phone consult, or a Virtual Visit (Telehealth) online video visit with one of our providers.
We have increased signage around the office asking patients who are sick, to do a self screen before entering the office. Those who screen positive, are asked to wait in their vehicle and call the office, one of our providers will then go to the parking lot to discuss next steps.
Preparedness:
We, as providers and staff, have discussed contingency plans in the event of an exposure in the office. One possibility is that providers or staff will need to be quarantined, and if so, again the use of phone or video consultations would still be used for those needing to be seen.
Many of our staff are currently working from home and in the event that in-office staff become unavailable, the home staff can come in and continue patient care. This includes our providers who are backing each other up in the event of an exposure.
We understand that there may be an acute increase in the need for medical services due to the pandemic. Patients who have non-urgent needs may be asked to reschedule (for example Annual Wellness Visits and well child checks).
We are here for your primary care:
We understand that many people do not want to risk leaving their home and be in public. We do not want this to be an opportunity for other chronic conditions to worsen. In particular diabetes, hypertension, weight gain, high cholesterol, depression, and anxiety (amongst other conditions) can rapidly get worse with a lifestyle change such as we have had to adopt.
To keep your chronic conditions from worsening, please try to stick with your treatment plan of medications, diet, exercise, and other self care needed to control your conditions. If you have questions, or if you feel your condition is getting out of control, please contact our office for either an online, phone, or in-person visit to discuss getting back on track.
If you get sick:
First, contact our office if you develop symptoms such as fever, cough, or shortness of breath. Our providers are now sending patients to testing centers to confirm if they have coronavirus, a phone or online visit will be used to assess and to schedule the testing.
Use the CDC Self-Checker to guide your decisions on seeking appropriate medical care.
Call 911 if you suddenly get short of breath or have chest pain
See the CDC home care guide "If You Are Sick or Caring for Someone"
If you are in need of services such as food delivery, medication delivery or other services, please see our resources page.
Important links:
Updated CDC COVID-19 information
Updated Rhode Island Department of Health Guidance
Rhode Island COVID-19 Data
COVID-19 Vaccination Frequently Asked Questions
V-Safe Vaccine Side Effect reporting
Please let our staff know if you have any questions.
Thank you,
Dr. Aaron Way
DRWAY@myupdox.com
401-284-4555